Assalamualaikum and hello everyone,
On the second day, we went to the one and only Niagara Falls. Oh my goodness, this is one of my dreams since high school. Seriously sorry for my not-so-great geographical knowledge skill hahaha, there was time when I thought Niagara Fall is only in United States of America but actually you can see and view the fall from two countries which are USA and Canada. But I would say that you still see the view of the falls from Canada side, you won't regret it!
Okay enough with the geography story, let's continue with my journey. I forgot to mentioned where we stay last night. I booked a residence from booking.com. It is not like a hotel but more like airbnb kind a place because we need extra room with kitchen as well. Quite nice place if you would want to bring your whole family for a vacation in Toronto. Go and google it okay!
Codsell Residence
We drove from North York to Niagara Falls for about one and half hour. Please remember if you don't want to pay for tolls, you need to choose the correct highway to the Falls. Ask Mrs. Google Maps, okay?
Once we arrived the Falls, we try to find the parking at the nearest place but I would recommend that you should just find any parking near the Clifton Hills and walk to the Falls. We manage to find $5 parking spot which is one the cheapest there (across Days Inn & Suites)
Picture from Google Map 5043-5077 Centre St Parking
We walk towards Clifton Hills to reach the Falls. It just take about 5 minutes walk but you can still enjoy the view of Clifton Hills. There are a lots of interesting places that you can see at Clifton Hills like Niagara SkyWheel, Speedway, Dinosaur Adventure Gold and many more! Just make sure you have enough $$$ to play all that you want.
Clifton Hills
Clifton Hills
Niagara SkyWheel at Clifton Hills
One of attraction at Clifton Hills
Dinosaur Gold Park, you can see the volcano erupts here too! Interesting huh?
Our first pit stop is actually
Niagara Falls Hornblower Cruise
. This is a boat tour experience that brings you the nearest that you can ever imagine with the Falls. By the way, you can purchase the ticket at the ticket booth or bought in online from this website
https://www.niagaracruises.com/
. There are 3 types of cruises which you can choose from but I choose Voyage to the Falls Boat Tour. It is basically a day cruise with the jargon word. The price of the tickets is $25.95 exclude the 13 tax 13% tax though 😑 Everyone will get a free red poncho, yay!!
way to the boat, lucky you if you don't need to wait too long. come at early morning on weekdays and non-summer
This is the actual boat, hey make sure pick the right spot for you!
me and my new poncho
Alert! Please make sure you have waterproof case or your camera/phone itself is waterproof. You will get wet here!
No kidding, see my scarf before and after ughh
The view is amazing! 😍😍😍😍😍😍😍😍
I would rate my experience of the cruise is 10 out of 10. I still want to go there again! Maybe I can try the cruise from US side (but they get blue poncho!) Sorry I have more videos than pictures, but hey the experience is what matter the most right?
After the cruise, we have a long walk towards the Fallsview Tourist Area, it is free so if you does not want to spend any $$ on the cruise, you can come here. There is also some place where you can sit down and eat your food. But I can't find anywhere near to refill my water 😢😢
Here's some picture of the Falls, credit to my husband for the awesome picture 💖
The bridge that connects Canada and US
B E A U T I F U L


Breathtaking view
Horseshoe Falls
US Observation Tower, the only place you can see both American Falls and Horseshoe Falls at the same time from US
Ain't the view pretty? I would definitely come again and maybe bring my family next time.
You can also try the Journey behind the Falls where you can walk to the lower observation deck which is located closer to the Falls and you get free yellow poncho with price of $19.95 exclude tax. Why am I looks like I'm promoting the poncho more than the attraction 😂 women do loves free stuff haha
Another interesting attraction that I missed is Skylon Tower. If you have more time, you can try and visit the tower itself. It is located near the Fallsview Tourist Area.
Next, we went to the Hershey Chocolate's World Store, it is a just around the corner from the Clifton Hills. And of course bought some chocolate. There are also Coca-Cola Shop and Hard Rock Cafe for fans, I'm not a fan so I won't need to stop by 😜
for the chocolate lovers
We continue our journey to the Niagara Whirpool. It is natural whirpool along the Niagara River located along Canada-US border. There are few attractions that you choose to experience with here likes White Water Walk, Whirpool Aero Car and Whirpool Jet Boat Tours.
White Water Walk View Platform
White Water Walk near the Whirpool Bridge ($13.00 + tax for adult)
Whirpool Aero Car ($14.55 + tax for adult)
I didn't have much time so I'm not be able to go for
Whirpool Jet Boat Tour
but I should try it next time. It looks so much fun!
Next place is Floral Clock Niagara. The design on the face of the Floral Clock are created with up to 16,000 carpet bedding plants and are changed twice a year. The tower at the back of the clock houses Westminster chimes hat greet each quarter hour.
Our last pit-stop in Niagara-on-the-Lake is ................................................... guess what ?
😏😏😏😏😏😏😏😏😏😏😏😏😏😏😏😏😏
.
.
.
.
.
.
.
Outlet Collection at Niagara !!
This is one of your must to go list. There many outlets and have lots of interesting things to buy 😎 so see for yourselves, ladies.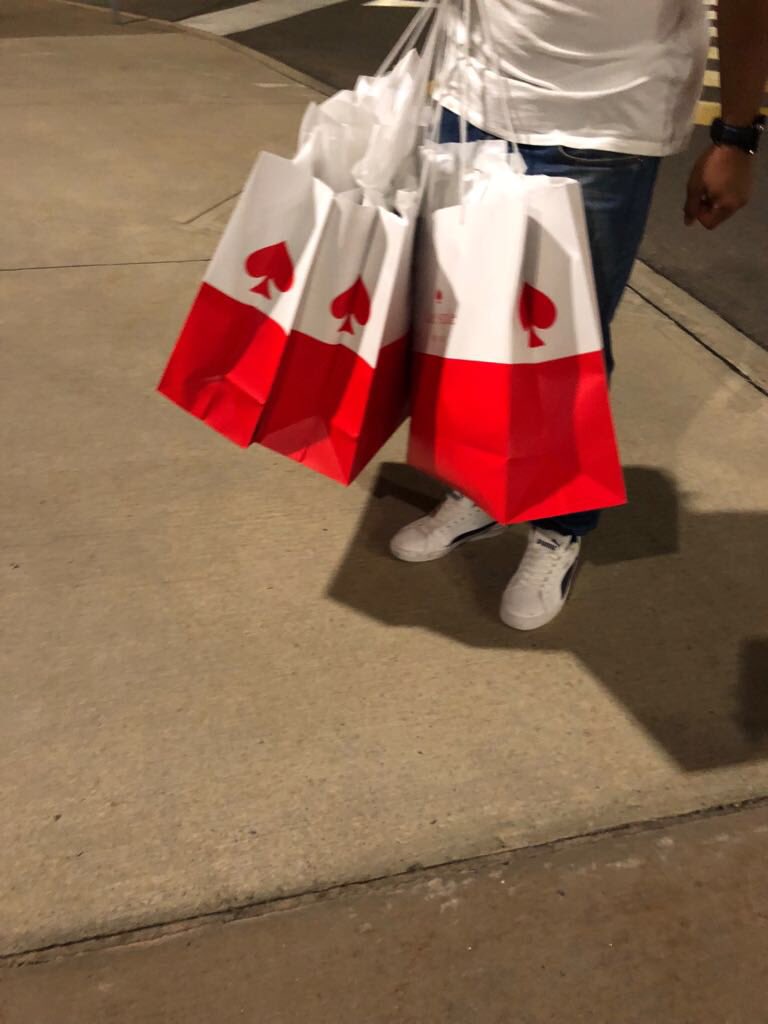 The outcome of my visit 💋
After some shopping spree, we went for dinner at Affy's Premium Grill near Mississauga. This is a halal steakhouse which you should try you haven't guys. I would say the best food is the ribs that we ordered, it is really good so I'm impressed. The rest that we ordered is not too bad but can't defy the rib. I saw from the website that the restaurant is available at few locations in Ontario and one in New York City.
BBQ Beef Ribs Full Rack
Not sure what this is, this is my husband's food 😂
That's the end of our Day 2 journey. Cause our holiday is short so we try to try the toplist place to visit in Niagara in one day. I would recommend if you want more relaxing visit and more time to try more things here, you should at least spend two to three days so you can have a fully experience of the attractions here.
Day 3 will be coming soon.
Till then~
FS